Latest News
Jun 8, 2022
View Full Size
New Product Arrived!!!🥳
Introduce Our SMFTOOLS Premium Air Compressor New Model!!!😎
SPECIAL MODEL !! 3HP SINGLE PHASE WITH HIGH PRESSURE!!
MODEL : V2512HS
SPEC : 3HP x 240V x 12 BAR x 150L
TANK TYPE : VERTICAL
COUNTRY OF ORIGIN : MALAYSIA
WARRANTY : 12 MONTH (T&C APPLY)
Vertical Tank Cannot Move? No Worries!! Our V2512HS Comes With 2(Two) Heavy Duty PU Wheel For Easily Adjust Your Position!!
Suitable For : Workshop, Tire Shop, 12Bar High Pressure Usage
More Info Please Contact☎️
WA.ME/60126868099
WA.ME/60126606788
WA.ME/60109889678
#TheRightToolsForTheRightJobs
www.linktr.ee/smftools
www.smftools.com.my
May 20, 2022
View Full Size
We Would Like To Announce That😄
Starting On May 2022, WE ARE OFFICIALY TSTOP TOOLS DEALER AT JOHOR🥳
TSTOP commits to professional hand tools, auto repair tools, and combines design, development, production and sales.
TSTOP also passed ISO: 9001:2008 International Quality System Certification.
TSTOP brands professional tools are widely used by various industrial maintenances and fitting, automotive workshops, militaries, aerospace industry, mining industry, heave duty industry and all kind of mechanical services, and quality.
CONTACT US FOR MORE DETAILS!!!
Apr 9, 2022
In this post, you're going to learn exactly how to get your industrial air compressors registered for hydrostatic testing on MyKKP DOSH website, step-by-step.
In fact, this approach has successfully helped many customers to have their air compressors registered in the system.
So if you're looking for an easy way to follow, this new guide is for you.

Here are the steps to apply hydrostatic test for your air compressors on MyKKP website:
Step 1: Go to ​http://mykkp.dosh.gov.my​ and click 'Pendaftaran' to sign up a new account



Step 2: Fill up all your information here and you will receive an email from MyKKP about your login ID and password



Step 3: Login with the ID and password



Step 4: Once you've logged in, you will come to a dashboard page. Make sure 'Kilang Dan Jentera' was selected and then click 'Pengujian Hidrostatik Baru' under Ujian Hidrostatik.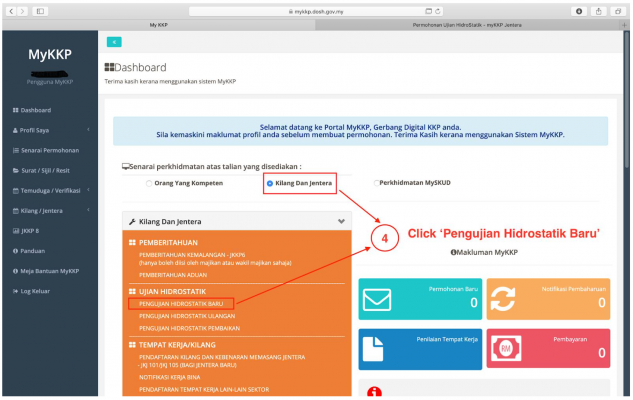 Step 5: Please check to make sure all your information is correct before you click 'Seterusnya
'.
Step 6: Insert No. Tempat Kerja, then hit 'Carian Tempat Kerja'. All your information will show up and please check before you proceed to the next step.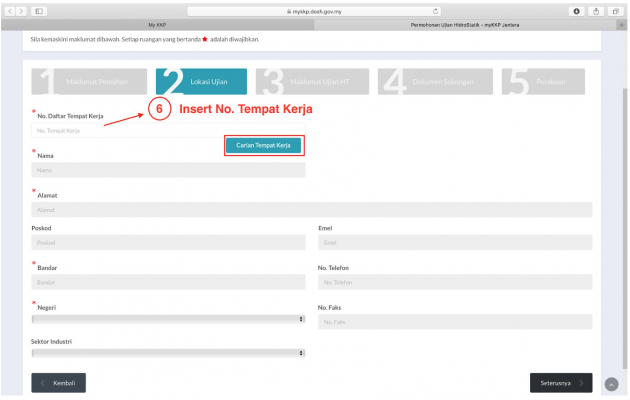 Step 7: Please follow the steps below:
a) Pengecualian Ujian HT: select Tidak
b) No. Kelulusan Rekabentuk: refer the number of Ruj. Kami in Surat Kelulusan → click 'Maklumat Kelulusan Rekabentuk' → click 'Simpan'
c) No. Siri & Tahun Dibina: refer to your certificate
d) Tarikh Jangkaan Ujian: select your preferred date for testing
e) Click 'Simpan'
Please check before moving on to the next.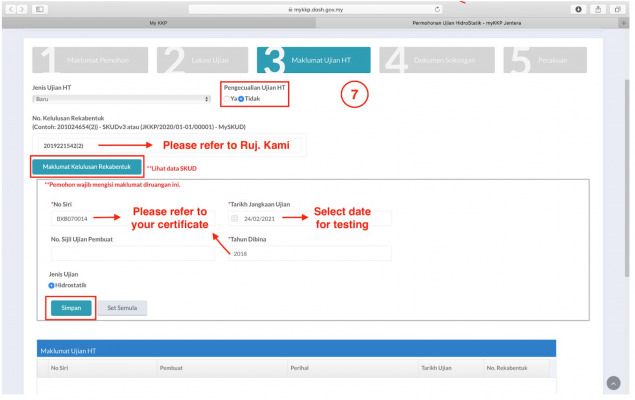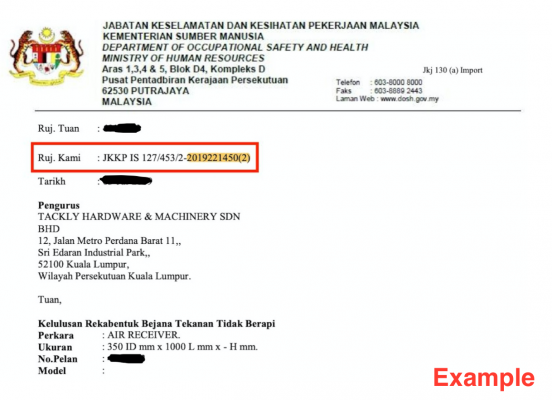 Step 8: We will provide all 3 documents and please submit them and click next.

Step 9: Last step, please review and you're all set.
If you think this post is helpful, feel free to share it to your friends, customers, or whoever might think this is useful to them.
At the mean time, if you are looking for a new air compressor, please check out Our Website Branded Air Compressor, we supply different types of air compressors ranging from piston, screw and oil less compressor.
We've sold more than 5,000 units of air compressors in Kulai Johor Malaysia and we are proud to say that we are one of the biggest air compressor supplier in Kulai Johor, Malaysia.